These days, Books play a significant role in your preparation for any exam. And when it comes to UPSC preparations, Books are the most necessary thing. If you are a UPSC or Civil services aspirant and you are looking for the Must-have Book for UPSC Aspirants, then you are at the right place.
Here you will find a list of Top 10 Must-have Books for a UPSC aspirant i.e., a list of Top 10 Books for the preparation for Civil services or UPSC examination.
At the end of this post, I also included the FAQs and all queries related to IAS 2020 examinations. I have also added that how you should read all these must-have books for IAS 2020 preparations.
If you are an IAS aspirant, then you should go through this post from start to end because this post will help you a lot in your IAS preparation strategy.
I present to you the Top 10 Best Must-Have Books for IAS 2020 Examinations. All the books are available in both Hindi and English language with Best price links.

Also Check: Best All in One Printer For Home Use in India
1.

Indian Polity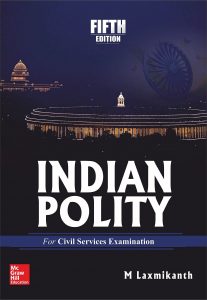 The book itself needs no introduction. It is one of the most popular and comprehensive books on the subject and has been a consistent bestseller for many years.
It has become a must-read book for IAS aspirants appearing in various competitive examinations, especially the civil services examinations.
This is one book that is damn sure to find a place in the IAS aspirant list of books for the UPSC exam.
Many says that India Polity by Laxmikanth is the Bible of Polity topic referred and trusted by lakhs of IAS officers. The most important thing about this book is that the language of this book is damn easy.
Even an average student will understand the writing of this book in no time.
Salient Features:
76 chapters and 18 appendices covering the entire Indian political and constitutional spectrum.

Of the chapters, seven are brand new additions in this edition, with four new appendices.

Separate sections on non-constitutional bodies of India.

Invaluable reference for students of Law, Political Science and Public Administration.

UPSC questions on Indian Polity for Preliminary and Main Examinations.

Practice questions on Indian Polity for Preliminary and Main Examinations.

All existing chapters and appendices updated with additional information.

Written in an extremely lucid language which is easy to grasp

.

| | |
| --- | --- |
| Total Pages | 852 Pages |
| Book Dimensions | 20 x 14 x 4 cm |
| Available Languages | English | Hindi |
2.

Indian Economy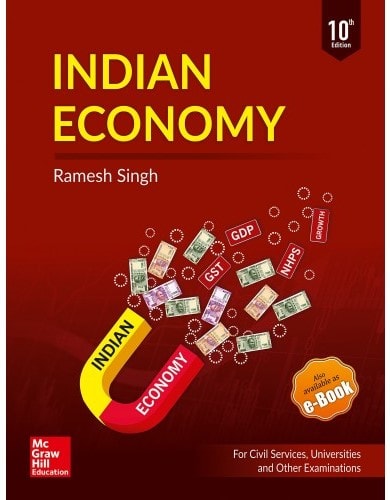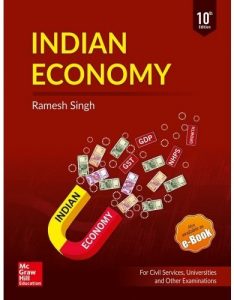 Second on our list of Top 10 Must-have books for IAS 2020 preparation is the Indian Economy. Ramesh Singh's Indian Economy is a comprehensive text with detailed coverage of all topics prescribed by the UPSC for Preliminary and Main examinations.
Written by a subject expert and renowned teacher on the subject, the book has proved to be of immense importance to the aspirants of the Union and State civil services examinations, academics, researchers and those with an abiding passion for the subject.
Salient Features:
Includes Latest details till 2019.

Burning Socio-Economic Issues have been fully revised as per the changed times

Taxation and Budgeting sections fully revised as per the changing ideology of the Government

Human Development section fully revised and updated

Multiple Choice Questions (Prelim) and Model Answer (Main) sections have been fully revised with new and relevant questions added and outdated ones being weeded out.

Agriculture, Industry and Services sections fully updated and synchronised with the changed landscape of the economy

Financial Sector together with External Sector and International Organisations sections fully updated and revamped with new ideas and inputs
| | |
| --- | --- |
| Total Pages | 550 Pages |
| Book Dimensions | 20 x 14 x 4 cm |
| Available Languages | English | Hindi |
3.

India's Struggle for Independence: 1857-1947

The book which got the third position on our list of Best Books for IAS preparation is "India's Struggle for Independence: 1857-1947" by Bipin Chandra. Indian freedom struggle is one of the most critical parts of its history.
Bipin Chandra's book is a well-documented history of India's freedom struggle against British rule. It maps the first war of independence that started with Mangal Pandey's mutiny and witnessed the gallant effort of Sri Rani Laxmi Bai.
Many of the pages of this book are dedicated to Mahatma Gandhi's non-cooperation and the civil disobedience movements. It contains a detailed description of Subash Chandra Bose's weapon heavy tactics and his charisma.
This book includes all the independence movements and fights, irrespective of their size and impact, covering India in its entirety. UPSC regularly asks 8-12 questions in modern Indian history in the civil services prelim exam every year.
Salient Features:
The book captures the evolution of Indian independence struggle in full detail and leaves no chapter of this story untouched.

This book is a good read for the students of Indian modern history and especially for students who are preparing for UPSC examination and have taken History as their subject.
This book includes all the independence movements and fights.
Also Check: Best Smart LED TVs in India
| | |
| --- | --- |
| Total Pages | 600 Pages |
| Book Dimensions | 13.7 x 3.3 x 21.3 cm |
| Available Languages | English | Marathi | Telugu |
4.

General Studies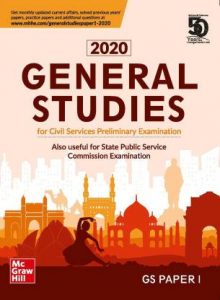 The book which occupies the fourth position on our list of Top 10 books for UPSC preparation GS paper 1 is General studies by McGraw Hill. General Studies Paper 1 is a comprehensive study material with a dedicated focus on the syllabus prescribed by the UPSC for the Preliminary Examination.
There are three main attributes of this edition viz. excellent quality, updated data, and questions based on structured analysis and emerging trends.The 2020 edition is a one stop solution for the aspirants to begin preparation for the Civil Services Examination and useful for State Public Service Commission Examination.
Salient Features:
New restructured content including flow charts and bullet points to enable easy retention.

Deeper analysis of previous year's questions with repository of practice sessions designed and developed on emerging trends.

A reliable recipe for success in civil services exams.

Sufficient practice sessions for self-evaluation and gaining an added advantage.

Monthly update on current Affairs on the old link on the book cover.
| | |
| --- | --- |
| Total Pages | 1350 Pages |
| Book Dimensions | 20 x 14 x 4 cm |
| Available Languages | English |
5.

India After Gandhi: The History of the World's Largest Democracy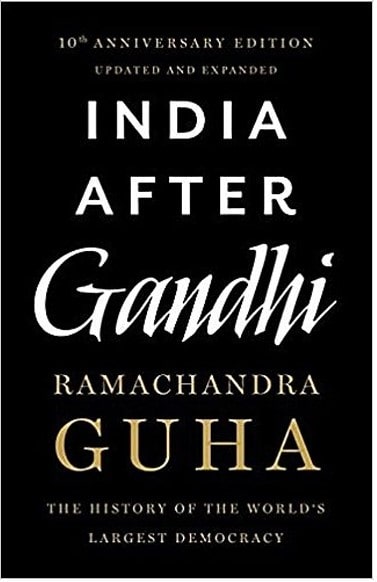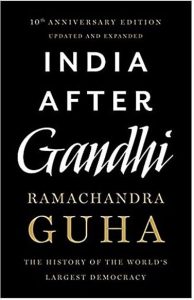 Here comes the Most important Book on our list of Best Books for IAS preparation. This Book is the most award-winning books on this list. This Book is the Sahitya Akademi award winner.
This Book has won the Book of the year by The Economist, Wall Street Journal, Washington Post, San Francisco Chronicle, Time Out, and Outlook.
Ramachandra Guha's India after Gandhi is a magisterial account of the pains, struggles, humiliations, and glories of the world's largest and least likely democracy.
This book will give you a better understanding of how India has changed since Independence and some of the significant events that shaped today's India.
Salient Features:
Book of the Year

Most Award winning Book

Sahitya Akademi Award Winner
| | |
| --- | --- |
| Total Pages | 960 Pages |
| Book Dimensions | 20 x 14 x 4 cm |
| Available Languages | English |
6.

Science and Technology

Number six on our list of Best Books for UPSC preparation is the Science and technology: for civil services preliminary and mains examinations. The third edition of Science and Technology has been thoroughly revised to suit the needs of students appearing for the UPSC Preliminary and Main exam.
The content has been aligned as per the previous examination trends so that the aspirants have a fair understanding of the subject alongside getting accustomed to the examination pattern.
It covers all aspects of Science and Technology from basic to an advanced level making it easier for students from non-science backgrounds to comprehend and retain.
Salient Features:

Two new chapters have been included on the topics Cyber Security and Universe.

Important terms have been highlighted through the text to guide new aspirants.

Includes 2019 Prelim questions.

Content has been updated to include recent developments, current affairs, and government schemes related to Science and Technology.
| | |
| --- | --- |
| Total Pages | 704 Pages |
| Book Dimensions | 20 x 14 x 4 cm |
| Available Languages | English |
7.

Certificate Physical And Human Geography; Indian Edition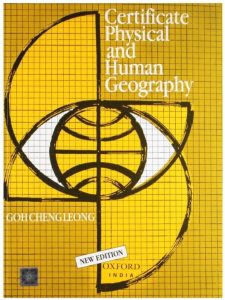 The book which occupies the 7th place on our list of Top 10 Books for IAS preparation is quite surprising. Although this book is written long ago, the book is relevant very much today as it covers the fundamentals of physical geography, which hasn't changed.
UPSC asks questions on physical geography that relies on this book quite well. Other exams also love to ask questions based on physical geography, and this book covers an impressive collection of it.
This book contains elementary details of most topics that comprise of physical and human geography have been covered in an easy to understand language, with many photographs, illustrations, and maps offering a detailed explanation, wherever required.
Salient Features:
The book is divided into two main sections.

The first one deals with physical geography, where in-depth information about existing land masses, oceans, types of winds, rivers, glaciation, mountain types, groundwater, rainfall and its global patterns and such existing natural phenomenon is presented in a well illustrated manner that makes reading a pleasure.

The second section details about the existing global climatic zones of Savanna, Steppe, Mediterranean, Equatorial and Tropical Monsoon Climate. Aspects of Human Geography spread over these varied climatic zones, the types of agriculture practiced, the urban centers, mineral wealth and the developed industrial belts have also been included.

At the end of each topic, a set of relevant questions have been put for practice and making a self-analysis about having obtained clarity of the subject presented.
| | |
| --- | --- |
| Total Pages | 200 Pages |
| Book Dimensions | 22 x 20 x 22 cm |
| Available Languages | English |
8. Environment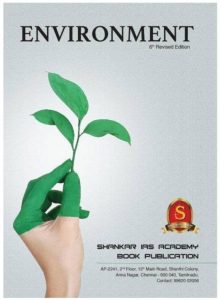 Although the topic of this book sounds a bit like an inside topic, yes, this is a full book based on the Environment topic. Environment by Shankar IAS Academy is almost a complete book for aspirants preparing for IAS/Civil Services Exams.
This book follows the paper pattern and syllabus given by Union Public Service Commission, which conducts these examinations.
The language of the book is simple, and the content is engaging, which ensures students face no trouble during studying. Plus, the unique designing makes it easy to navigate and read. A team of highly experienced writers from Shankar IAS Academy has written this book, and hence, it is accurate and reliable.
The updated syllabus of UPSC focuses a lot on the environment. The Geography paper of the Civil Service examination includes topics on the environment, and hence students need to have a thorough understanding of this topic.
Salient Features:
This book is completely dedicated on environment and covers all concepts and points.

It focuses on topics like environmental ecology, bio-diversity and Climate change.

Some of the topics discussed in the book include ecological pyramid and nutrient cycling, ecosystem rainforest, deciduous monsoon forest, Biome, breadbasket region, food chain, primary consumer, food web, environmental pyramid, ecological explosion, ecotone, chemosynthesis, biogeochemical cycle, Miss semple, possibilism, stratosphere, biosphere, species types, nutritional eutrophication, acid rain, marble cancer, soil types, biogeographical realm, xerophytic, Nitrogen cycle, greenhouse gas, biodiversity hotspots, Ozone depletion, club of Rome, planktonic, biological magnification, young lakes, good Ozone and biodiversity loss.
| | |
| --- | --- |
| Total Pages | 364 Pages |
| Book Dimensions | 20.3 x 25.4 x 4.7 cm |
| Available Languages | English |
9. Manorama Yearbook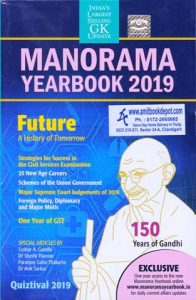 Number 9th on our list of Top 10 Books for UPSC preparations is Manorama Yearbook. This book contains the latest information on different topics that will help to boost your general knowledge and awareness.
This book is the Most popular GK facts book. The Yearbook is extremely useful for students preparing for various Competitive and entrance exams.
This book is available in both Hindi and English language so that it won't be difficult for students beginning to any medium background. It is also useful for teachers, Researchers, Media persons, and laypersons alike.
Salient Features:
It serves as an Up-to-date reference database covering varied topics like Science and Medicine, Space, Environment, Literature, History, 1000 Quiz, Sports, Policies and Schemes of government, Census reports, Election results, Religious Census report, Economic indicators, Art forms, National Days, new Appointments, list of Union Cabinet Ministers, GK, Awards, Books, Cinema, Sports, etc.
| | |
| --- | --- |
| Total Pages | 400 Pages |
| Book Dimensions | 24 x 18 x 1 cm |
| Available Languages | English | Hindi | Tamil | Bengali | Malayalam |
10.

25 Years UPSC IAS/ IPS Prelims Topic-wise Solved Papers 1 & 2 (1995-2019)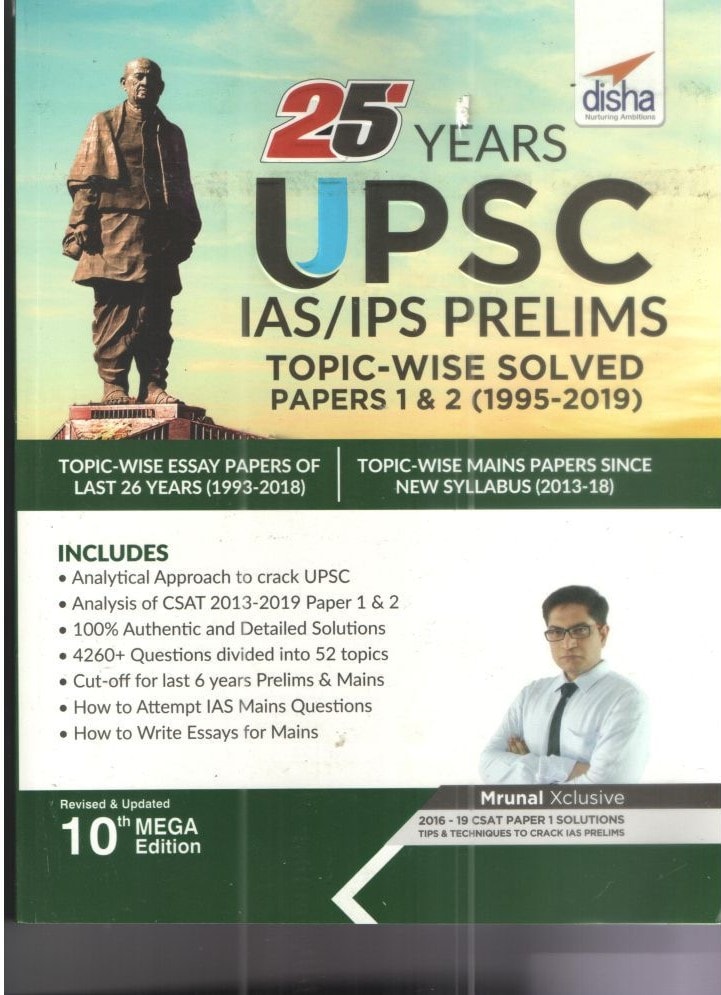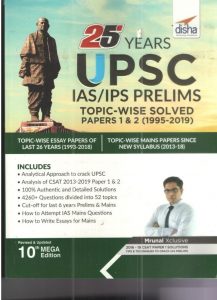 Last but not least, on our List of Best Books for IAS preparation is the Solved papers book. This book itself doesn't need any intro. The Heading of this book defines all its features and importance if you are preparing for UPSC or IAS examinations that you need to have an idea about the question pattern.
This book gives you a full idea about the question pattern and a collection of the last 25 years of questions with a solution asked by UPSC.I won't write much about this book because you know the importance of this very book.
Salient Features:
Disha Publications's Best seller

The book provides unsolved Mains papers from 2013-18, divided topic-wise.

The book also provides list of essays divided topic-wise from 1993-2018.

The strength of the book lies in the Errorless detailed solutions.

The book is 100% useful for both the General Studies Papers (1 and 2) of the Prelims/ CSAT.
| | |
| --- | --- |
| Total Pages | 604 Pages |
| Book Dimensions | 20 x 14 x 4 cm |
| Available Languages | English | Hindi |
IAS exam 2020 related queries

How to Prepare for IAS | Civil Services | UPSC exam?
The first thing which an IAS aspirant must understand is the syllabus of this exam. Without knowing the syllabus of this exam, you won't be able to make the strategy for your exam preparations.
The Next important thing is to read NCERT books. NCERT Books from class 6 to class 12 to build a strong foundation in the subjects. While reading the NCERT books, make a short note of every important topic.
Revision should be your ritual. Without revision, it isn't easy fo you to crack any exam. After that, you need to make a list of essential books which I have made easy for you. I have already created the list above.
The UPSC Syllabus is indicative. Stick to the syllabus while preparing for the exam. All the questions in the exam will be well within the framework of the syllabus.
How to choose an optional subject for UPSC Exam?
Interest in a subject is the essential factor for choosing an optional for UPSC Mains. The optional subject should be as per your interest. The vital points you should take care of when choosing the optional subject.
Is the study material easily available in the market?

Can the entire syllabus be completed before the exam?

Are coaching centres and test series available for that particular optional?
Importance of NCERT Books
NCERT books are an essential part of IAS preparation. These books provide a base for your preparation, which is quite necessary for further preparations.So you need to go through the NCERT books thoroughly.
How to cover daily current affairs for UPSC Exam?
There is a saying among the IAS offices that newspapers are the Bible of Current affairs. An IAS aspirant should go through the Newspaper thoroughly daily to cover the current affairs topics. You can also watch various youtube channels which upload the current affairs daily.
This was our top 10 list of Best Books for IAS preparation. I did comprehensive research and came up with my final list. Hope this article resulted to be beneficial for you. If you liked this article and have any queries and suggestions then feel free to write in the Comment section below. if you want me to Post furthermore top 10 articles then feel free to write the topic in the comment section below
For Getting LOOT Offers in Shopping, Please Check out our Loot Offers Section in the Menu Tab.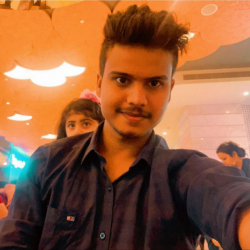 Latest posts by SaurabhDeep
(see all)