Nowadays, dating apps are becoming very popular in India and people have started using dating apps to meet new people and go for a Date. So in this post, I have made a list of top 10 Dating Apps In India. When you will search for dating apps, you might end up installing those apps which are not for India and you won't find any Indian on that very app. So to fix this problem for you, I have made a list of Top 10 Dating Apps In India for Indians. These apps will have Indians searching for their soulmate.
Some people find their true love very easily and some wait for their whole life to find a life partner. Some get opportunities to meet new people and some don't. It's very tough to get a like-minded soulmate.
Why Dating Apps?
The biggest problem of us is that we feel very shy in front of the person we like. Sometimes we can't even speak a word in front of them. But when it comes to talking with them on social media and others, the shyness lowers down and we often talk with them fluently. Here, the Dating app comes into existence. The Dating apps in India provide a social media type platform in which you can look for your partners. You can see their interests, their likes, their dislikes, their hobbies and everything else. You will find your perfect match as per your interests and likes.
Check Other Articles: Best All in One Printer For Home Use in India
The impact of Dating Apps in India
Recently we saw an explicit cultural change towards the digital revolution and how Indians interact with one another. But when it comes to choosing our life partner, we have become open-minded. We look for or life partner just like us. You want a life partner just like yourself who can understand you well, who can look for you, who can stand aside you in your every situation. Instead of nodding to the family arrangements and matrimonial sites, we either find a life partner ourselves or just go for a dating app. Obviously, if I am looking for my life partner and my soulmate, why would I let anyone decide it. I will choose it myself. The popularity of dating apps in India is growing very rapidly.
Let's have a look at the Top 10 Best Dating Apps In India.
1. Happn
The Dating app in India which topped our list is Happn. When walking down the street, sitting at a bar, at work, or during a night out. We've all had that experience of making eye contact with someone who leaves a lasting impression. Now with happn, you can find the people you cross paths with, and seize the opportunity! We often meet that special person when we're least expecting it. Happn is the app that connects you to the people you cross paths with every day, the ones who are already a part of your routine without you realizing it. Everyone says It's Fate when two people end up in the same place at the same time. You don't want to miss out on an opportunity like that, do you?
2. Ok Cupid

Number two on our list is the Ok Cupid. It's the Best choice for Dating apps in India and it's quite famous too. While going through this app for the first time, you will be asked many multiple-choice questions in order to match members. With this feature, Your search will be filtered as per your interest, your hobbies, your likes, and other things. This app gives people the impression that there are thousands or millions of potential mates out there. To generate matches, OkCupid applies data generated by users' activities on the site as well as their answers to questions. When answering a question, a user indicates his or her own answer, the answers he or she would accept from partners, and the level of importance he or she places on the question. The results of these questions can be made public.OkCupid describes in detail the algorithm used to calculate match percentages. This is one of the Best Online Dating App in India.
3. TrulyMadly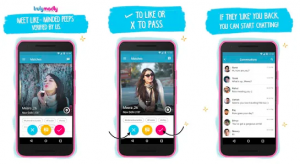 The

Dating app in India

which got the third place on our list is TrulyMadly. TrulyMadly is one of the most talked-about apps when it comes to dating. The app does all the heavy lifting and finds your perfect connection using powerful filters. The app is totally safe and users can find more matches once they verify themselves via Facebook and Google profiles. All you need to do is create your profile and start. Creating a profile is not a lengthy task. You have to just enter your details, and complete your profile. The best part of this printer is its filters. With the filters, you can filter matches according to you or what you want in your life partner. This is one of the Best Free Dating apps in India. You can filter as per your want that you want. TrulyMadly is also the best-rated app in the play store as well as the app store. This shows that the users are loving this app for dating. Like Tinder, you can like or pass a profile. If the other person likes you back, you can start chatting. So, this is also a Tinder-like app but its verification is tight, so there is no chance of matching with a fake profile. The Best part of this app is that no one can take the screenshot of your photos. Your photos and profile are safe.

4. Badoo

Badoo is the world's most widely used dating app operates in 190 countries and is available in 47 different languages. Badoo is a dating based social network and acquires the fourth position in our Best Dating apps in India. The best thing is that this app is available in Android, iOS as well as on the web too. The core features of this app are fully Free to use. The main features of Badoo include :
People Nearby: Users can see and contact people who live in their area, as well as those they 'Bumped Into' with this feature.
Search: Users can also see who is on the app in a different city or another part of the world.
Encounters: Another free feature, where users swipe right (yes) or left (no) on other users' profiles. If there is a match the two users are notified.
Video Chat: In August 2017, Badoo launched its video chat function that allows users to connect real-time, once they've exchanged messages.
Recently the privacy algorithms of this app are changed and this app was made more secure and data protection-friendly. Now your data is fully safe with this app. So you can use this app without any hesitation.
Do check out other articles: Best Gaming Mouse Under Rs.1000 India
5. Tinder
Tinder is the most famous talked-about dating apps in India. Almost 7 out of 10 dating apps users are a user of Tinder. But Tinder gets the fifth position on our list only because of its worst premium features. Almost every feature is premium. Only building a profile is free in Tinder. This is the most widely used dating platform and has a bunch of features. Tinder is a location-based so and Web application most often used as a dating service, that allows users to use a swiping motion to like (swipe right) or dislike (swipe left) other users, and allows users to chat if both parties like each other [ match ]. The information available to users is based on pictures, a short biography, and, optionally, a linked Instagram or facebook accounts. Tinder originally required access to a Facebook account of the user of Tinder but, as of August 2019, Tinder allows users to register using a telephone number and without access to a Facebook account. Tinder's primary companion site has been Facebook, as Tinder users were originally required to connect their Facebook profiles to their Tinder accounts for verification and profile details. Using Facebook, Tinder is able to build a user profile with photos that have already been uploaded. Let's check out its features which makes it the Best Dating App in India :
Swipe: is central to Tinder's design. From the compatible matches, the app's algorithm provides, users, swipe right to "like" potential matches and swipe left to continue on their search.
Messaging is also a heavily utilized feature. Once a user matches with another user, they're able to exchange text messages on the app.
Instagram integration enables users to access other users' Instagram profiles.
Common Connections allows users to see whether they share a mutual Facebook friend with a match (a first-degree connection on Tinder) or when a user and their match have two separate friends who happen to be friends with each other (considered second degree on Tinder).
Tinder Gold, introduced worldwide in August 2017, is a premium subscription feature that allows the user to see those who have already liked them before swiping.
6. Jaumo

Jaumo is the Best-Rated Dating app in play store but it's in number six of our list only because of it's comparatively lesser users as compared to the other dating sites and apps in India. It has the most authentic features. With so many dating apps out there, it's hard to figure out which ones are worth trying. Most dating apps leave people feeling exposed instead of confident and welcomed, and what should be an opportunity for connection many times ends in continued feelings of loneliness. Then Jaumo comes into role. It provides you a social platform in which you can look for your life partner as per your choice.
7. Azar

Number seven on our list is the Azar: The Video chatting app. Although we can't consider it as a proper dating app still it's a dating app in which you get to know strangers or other peoples all over the world through a Video call. Yes, this apps allows you to directly video call another person you get to saw in the app. This app doesn't let any restrictions. You can directly video call any random person. Yes, it sounds a bit awkward but this is it, Azar: The Video calling app. This is one of the amazing dating apps out there in the app stores.
8. Hinge
Hinge is a free dating app with an amazing rating in the play store as well as the app store. Keeping this app in the position of the eight is because it's not much famous in India. In today's digital world, singles are so busy matching that they're not actually connecting, in person, where it counts. Hinge is on a mission to change that. As per the developers of Hinge, They say that they built an app that's designed to be deleted. The app uses connections to Facebook friends to facilitate connections. The app has a "Your Turn" feature designed to remind a user to continue a conversation. One of Hinge's competitors is Facebook dating, which like Hinge includes prompts and questions to answer and display on one's profile. In both apps, one expresses interest in a potential match by liking the person's profile or commenting on a photo or other aspect of the person's profile. Unlike Facebook Dating, Hinge charges for additional features and matches. This can probably be the Best dating app in India with amazing ratings.
9. Woo
Let's talk about the Dating App in India which got the ninth position on our list. It's Woo. The best part of this app is to connect with interesting singles with common connections. One of the features if this app is to send crush to the ones you really like. This app has a feature called " Tag Search " in which you can look for more people based on your interest in a tag search. This also has a feature of Questions and Answers in which you can connect with the other peoples based in conversations. Ask them questions and match if you like their answers. Let's talk about the key features of the Woo dating App.
WOO PHONE: Single women can place a voice call directly from the app while their number remains hidden and private. This specially created feature, unique in the world of dating, is available only to women.
WOO SECRET: Woo dating app has special privacy features – like masking your names as initials, hiding your profile to be seen only by those you like and not showing your workplace information – ensuring that women on our platform can swipe without inhibitions and eliminating any fear of online stalking.
WOO SAME: An amazing feature on the Woo app that helps you find single men and women who share common interests with you using tags.
WOO ANSWER: Users can add interesting answers to our fun questions and be discovered even faster on the Woo dating app.
This is Probably the Best dating app in India.
10. Bumble

Last on our list but not the least is the Bumble dating app. In the Indian culture, generally, the male guy used to make the first move. But the tables have turned now. Bumble operates based on the idea of women's empowerment. Women have the upper hand in making the first move, then the men respond to it. The rest is the same. Bumble is not only merely for dating purposes, but we can also find like-minded friends via bumble as well. It's relatively a newbie in the Indian market. But it is rapidly picking up the pace.
This was our top 10 list of Best Dating App in India. I did comprehensive research and came up with my final list. Hope this article resulted to be beneficial for you. If you liked this article and have any queries and suggestions then feel free to write in the Comment section below. if you want me to Post furthermore top 10 articles then feel free to write the topic in the comment section below.
If you want to save money on your online shopping and if you want to earn money than don't forget to join our What's app, Telegram, and Facebook Groups. The Links are in the LOOT Offers Section of the Menu Button in the Top.